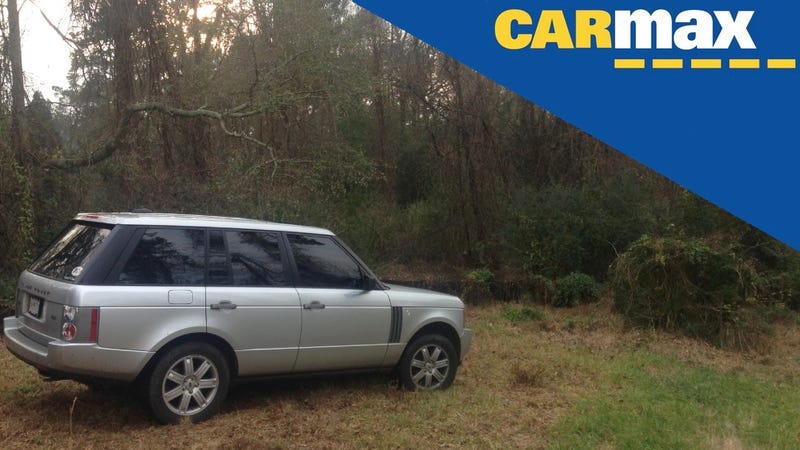 Well, folks, it's been a year. For many of you, this immediately begs the question: A year since what? But there's a select group of readers out there who knows exactly what I'm talking about; a privileged class of readers who's aware of this highly important milestone. These would be the readers who saw the headline.
For those of you who are still confused, I'll come right out and say it: exactly twelve months ago, I drove to my local Carmax, walked inside, and was immediately escorted out because apparently you have to wear pants there. Who knew? This was never a problem when I used to go to the Mercedes-Benz dealer, largely because the service department was going to remove your pants anyway when they bent you over. (Ba-dum tshh!)
OK, fine, so that didn't happen. (I mean, I didn't get thrown out of Carmax. The part about Mercedes-Benz service is totally true.) What really happened is that one year ago, I went to my local Carmax and bought a used Range Rover, which is often considered to be the single least reliable vehicle ever produced in the entire history of mankind. Seriously: according to the latest JD Power surveys, you'll probably get more trouble-free miles out of a wheeled office chair than a used Range Rover.
I should note at this point that I know exactly what you're thinking. You're thinking: If the Range Rover is so damn unreliable, why the hell did you buy it?! Are you stupid, or something? To which I would reply that you must've missed the part above where I said I once went to the Mercedes-Benz dealer… for service. Obviously I have a few screws loose. (Regular readers can verify this.) And I wanted a damn Range Rover. So I went to Carmax and bought one with … (DUN DUN DUNNNNN…) … an extended warranty.
Now, I should say that I was initially a little cautious about this. That's because I typically think of an automotive "extended warranty" as the kind of thing where you're driving down the street and all four wheels come off simultaneously, and the warranty company denies your claim because you're past due for an oil change. But the Carmax warranty was pretty well reviewed online – and most importantly, they gave me six years of bumper-to-bumper coverage for a little over three grand. This, mind you, on a vehicle where replacing a burnt-out dome light costs as much as a DVD player.
If this is all starting to sound a little familiar, there's a reason for that: I already told you about it. Way back in July, I wrote a column entitled Why Your Next Unreliable Luxury Car Should Come From Carmax, and the response was huge. I've written columns with more hits, and I've written columns with more comments, but I've never written a column that seemed to resonate with so many car shoppers eager to find a way to own a used luxury car without resorting to crazy tactics, such as dealing drugs, or going to law school.